It's Black Friday!

Read on to discover our two special offers and round-up of some of the best tech deals we've found.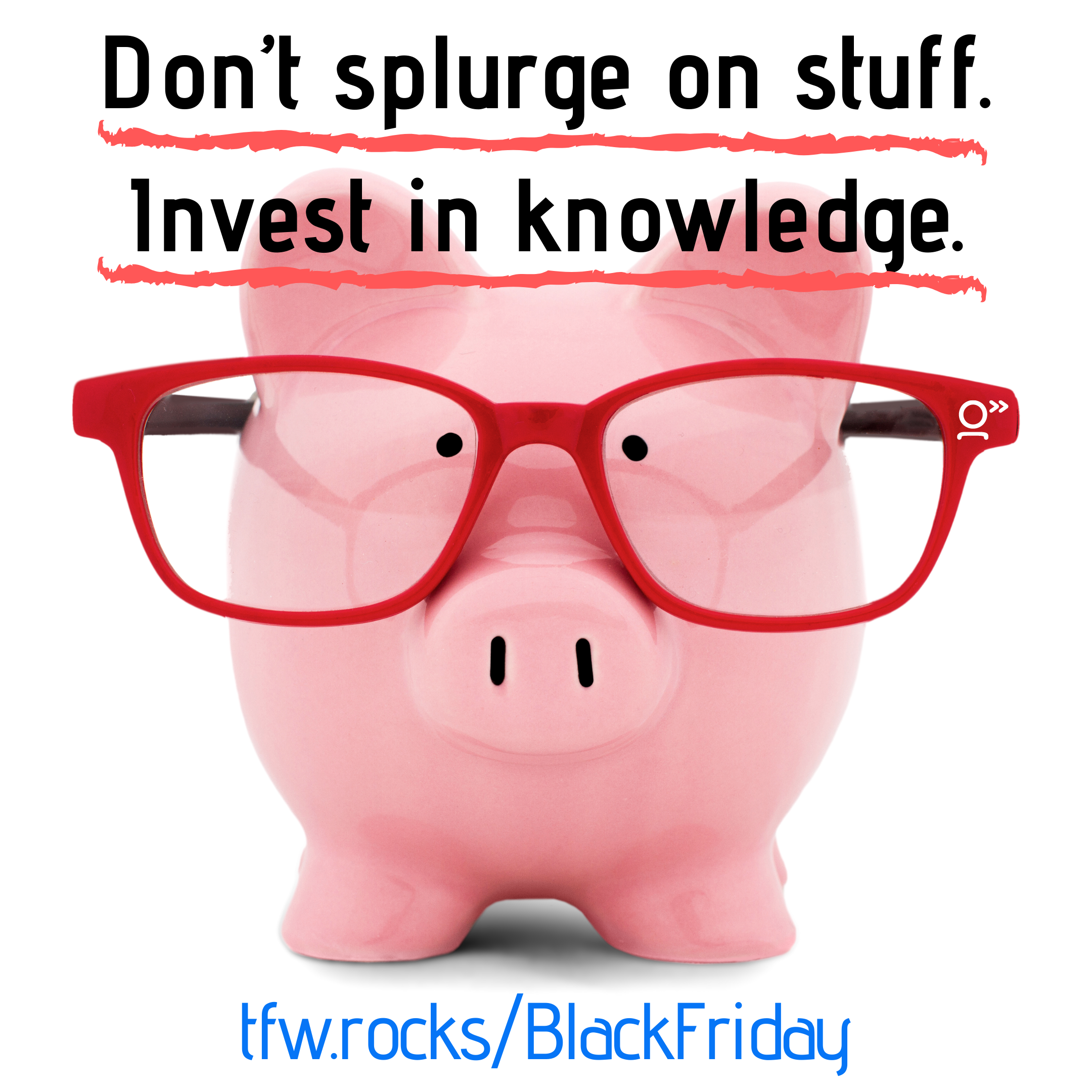 ---
💥 Offer #1: 30% off all techforword courses! 💥
📘 The Tablet Interpreting Manual - 19€, now 13.30€
🎙 The Interpreter's Guide to Audio and Video - 25€, now 17.50€
📖 Tablets for translators - 69€, now 48.30€
🗒 Paperless preparation on your iPad - 69€, now 48.30€
🖋 Cutting-edge consecutive on your iPad - 69€, now 48.30€
👨‍💻 Your digital sidekick - 69€, now 48.30€
📊 Productivity Powerhouse - 69€, now 48.30€
👩‍🎓 iPads for interpreters - The ultimate guide to mastering your tablet - 229€, now 160.30€ (Save over 110€ on this bundle!)
🎤 Remote interpreting from home - 69€, now 48.30€
🎧 Speech recognition for interpreters - 69€, now 48.30€
🛠 Glossaries for interpreters 2.0: Tech-savvy terminology management - 179€, now 125.30€
🖥 2021 Innovation in Translation Summit Replays - 99€, now 69.30€
💻 2021 Innovation in Interpreting Summit Replays - 99€, now 69.30€
That's it - just use the code "BLACKFRIDAY" at checkout to take 30% off any of our techforword products!
Sale ends midnight PST on Cyber Monday - November 29, 2021.
---
💥 Offer #2: Three months free on your techforword insiders annual subscription (Save 60€!) 💥
I'm having so much fun and learning so much with the insiders community - I just cannot stop talking about it!
Sure, the insiders are all about professional development. And we've done plenty - over fifteen webinars and live insiders events this year alone, including sessions on terminology tools, recording software, vocab learning, audio and video gear, semi-automatic subtitling, practice tools, and plenty more! (Check out the full list of sessions included from the moment you join here.)
I could tell you about the many perks for insiders, like networking and co-working sessions, a podcast of all insiders sessions so you can catch up on the go, quarterly office hours with me, early beta access to (and incredible launch discounts on) new courses, and special discounts on techforword products and our favorite tools, including Interpreters' Help, InterpretBank, interplex, Loopback, Juremy, the Webaround, and more!
But for me, the most incredible part of the insiders community is YOU. The people. We're all learning, growing, and exploring together. Trying out new tools and techniques. Sharing our knowledge. And supporting each other along the way.
That's why I put together our first ever insiders challenge. I know it's hard to carve out the time to work on the boring parts of business. But if we do this together, it's so much less of a drag!
I asked insiders what part of their business they wanted to start with, and that led to our first challenge: "Overhaul your LinkedIn profile in nine easy steps." You can read all about it here. It's going to be pretty neat.
Become an insider now and get access to:
monthly live trainings to explore cutting-edge tools
tech clinics to troubleshoot tech issues together
networking sessions with colleagues from across the globe
co-working sessions to jump into action
a training library with over 15 sessions for translators and interpreters - and counting!
early beta access to new courses
a private podcast to catch up with trainings on the go
special discounts on techforword products and our favorite tools
quarterly office hours with Josh to get your questions answered
insiders-only courses like our LinkedIn challenge to help you grow your business
and... whatever new fun ideas you and I come up with!
As far as I'm concerned, the best gift you can give yourself this Black Friday is investing in your learning and development.
I hope you'll consider joining the insiders now. (And it doesn't hurt that this is the best deal we've ever offered on an annual membership! 😅)
Click here to join the insiders and get three months for free.
If you have any questions, drop me an email.
See you on the inside!
This offer is limited to new insiders members. If you're an existing member and want to upgrade to an annual subscription, email me. 😉
Sale ends midnight PST on Cyber Monday - November 29, 2021.
---
Our favorite tech deals on the net
To the best of our knowledge, all deals end Cyber Monday unless otherwise indicated.
Invoicing/freelancing
Take 40% off any new LSP.expert subscription - the invoicing and management tool for language professionals with code BLACKFRIDAY2021. Deal ends Friday (26 Nov) at midnight.
Bad webcam? There's an app for that!
If you're unhappy with the low quality webcam you're using, check out Camo. This app lets you use your smartphone as a high-quality camera on your Mac or Windows computer. Until November 29, get 40% off the annual plan with code CYBERCAMO. (Watch our tutorial.)
Awesome accessories
Grab discounts on Apple accessories from Twelve South: Cases, covers, hubs, chargers, keyboards, stands, and more.
Our favorite tablet stand, the Hover Bar Duo, is on sale for $20 off!
Webaround
We never stop raving about why a green screen can help you look like a pro on video calls and why it's the perfect companion to that free, professional branded background you can set up in under 5 minutes. (For real!)
Our favorite portable green screen, the Webaround, is on sale for 25% off. We're not sure when this sale ends, so grab yours ASAP! (This sale is limited to U.S. residents. And yes, I may have just ordered three more Webarounds. Because hey, they make a perfect gift - although they're a bit too big to be a stocking stuffer!)
Readdle PDF Expert for iPhone and iPad
Edit text and images, merge PDFs, fill and sign documents, and tons more. Get 50% off your first year. (Or, take 40% off your first year of Readdle Calendars.)
Rogue Amoeba
We LOVE Rogue Amoeba products for macOS.
Audio Hijack lets you record any application's audio, and is our favorite software mixer for Mac.
Loopback makes audio routing a cinch, and is great for using speech recognition tools.
SoundSource brings you easy access to audio settings, letting you switch between inputs and outputs, adjust audio on an app-by-app basis, or add effects - all from the menu bar.
Take 21% off any Rogue Amoeba product with code DONTCALLITBFCM through December 5.
Find more great deals!
Discover dozens of deals for Black Friday to Cyber Monday on The Verge.
---
Discounts on our favorite tools for translators and interpreters
We've negotiated special discounts on some of our favorite tools for translators and interpreters. Usually, these are an insiders-only exclusive, but we're sharing these special deals with the entire techforword community until Cyber Monday. Check them out!
interplex
Take 20% off an interplex license for PC or Mac (just 60 USD instead of 75 USD) using this link and discount code techforword2021.
Interpreters' Help
Take 25% off Interpreters' Help for the life of your subscription - regardless of whether you pay monthly or annually - using this link and coupon code techforword. 🤩
InterpretBank
Use the links below and coupon code techforword2020 to take advantage of an exclusive 10€ off discount!
👉 Use this link to take 10€ off an InterpretBank license for a single workstation
👉 Use this link to take 10€ off an InterpretBank license for two workstations
Juremy EU Terminology Search
Use the coupon code EUTERMS at checkout and receive 30 % off your first subscription payment, either monthly or annual.
Love these special deals? They're just one of the incredible perks you get by joining techforword insiders. Next up: A brand new insiders challenge that will help you whip your LinkedIn profile into shape without the overwhelm. Find all the details here!