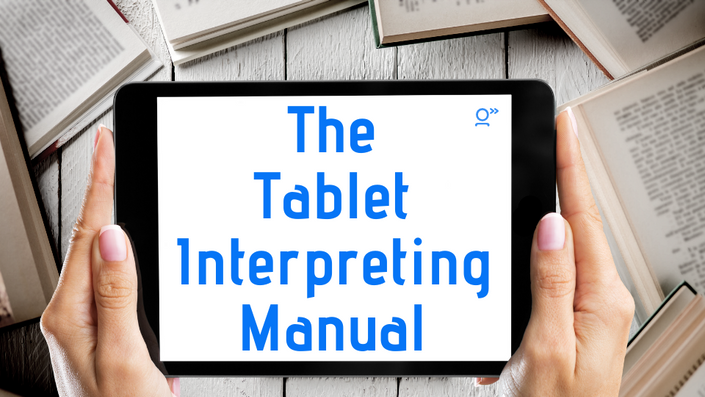 The Tablet Interpreting Manual
A beginner's guide
Wondering how to make the most of your tablet for interpreting?
Curious which tablet and apps are right for you?
The Tablet Interpreting Manual: A beginner's guide is what you've been waiting for!
Our brand new guide includes:
Dozens of tips and tricks
Five habits to get you started
Chapters on iPad, Android and Windows
Accessory suggestions galore - styluses, keyboards, flash drives, and more!
Tips for preparation
The lowdown on consecutive note-taking
Some cool ways to use tablets in the booth
A whole chapter on teaching interpreting with a tablet - including exercises for on-site and remote classrooms
Table of contents
Chapter 1: An introduction to tablet interpreting
Why should interpreters use tablets?
What's stopping you?
Which tablet is best for me?
Five tablet habits to get you started
Chapter 2: iPad
Which iPad is right for me?

Which stylus should I buy?

Getting started with your iPad (setup, search, multi-tasking and more)
Chapter 3: Android
Which Android tablet should I buy?

Which stylus is best for my Android tablet?

Getting started (setup, search, widgets, multi-tasking)
Chapter 4: Windows
Which Windows device is right for me?
Surface and other tablets

Tips and tricks to get you started (setup, tablet mode, multi-tasking and more)
Chapter 5: Tablet accessories
Keyboards

Styluses

Chargers and adapters

Battery packs

Cables

Flash drives

Cases and pouches

Screen protectors
Chapter 6: Tablets for preparation
Why prepare on a tablet

Mind-mapping

Annotation

Preparing your terminology

Practicing terminology with flashcards

Which apps are best for preparation on my tablet?
Chapter 7: Tablets for consecutive interpreting
Why use a digital notebook?

Taking notes

Notes and multitasking

What is the best consecutive app?
Chapter 8: Tablets in the booth
Why tablets make great boothmates

The importance of search

Finding the right term

Working with digital documents

Our favorite apps for the booth
Chapter 9: Teach interpreting with tablets
Why use a tablet to teach interpreting?

Sharing your screen

Teaching note-taking technique

Pairing audio and video

Annotating notes

Show, don't tell

Tablets for teaching interpreting in remote settings

A word on two-channel audio

Four exercises for teaching interpreting with tablets
Chapter 10: Putting it all into practice
Start with what you have

Start small

Ready to learn more?
What others say about techforword
"I am extremely satisfied with all the more than useful and tech-savvy information. Thank you both for sharing your valuable knowledge!" - Melissa Yitani
"You two are exceptionally proficient at preparing and presenting." - Steven Marzuola
"Great training session. The information was super useful and up to date. Great resources for interpreters!!" - Bereniss Cavazos
About the author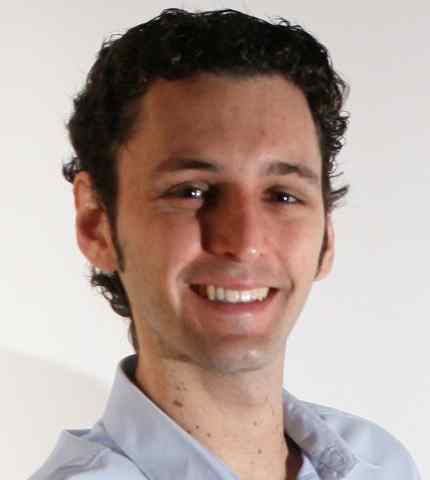 Josh Goldsmith is a UN and EU accredited translator and interpreter working from Spanish, French, Italian and Catalan into English. He splits his time between interpreting, translating, and working as a trainer and researcher focusing on the intersection between interpreting, technology and education. A lover of all things tech, Josh shares tips about technology, translation and interpreting in conferences and workshops, academic articles, the Interpreter's Toolkit column, and on Twitter.
Frequently Asked Questions
Which platforms do you cover in the Tablet Interpreting Manual?
All of them: iPad, Android and Windows.
What if I don't own a tablet?
That's totally fine! This manual will give you plenty of reasons to consider getting one...and lots of suggestions to use it once you do! 😉
Is this a physical book?
The Tablet Interpreting Manual is a digital book in PDF format that you can read on any device. The digital format is cheaper, more versatile and more interactive, e.g. with clickable links to additional content!
How is this different from your tablet interpreting courses?
We currently have four courses on the topic of tablet interpreting. "iPads for Wordsmiths," "Android for Wordsmiths," and "Windows for Wordsmiths" are snackable video courses that will get you started on your iPad or Android tablet in no time. "iPads for interpreters: The ultimate guide to mastering your tablet" is our comprehensive flagship course with over 70 video lessons and 60 hands-on exercises to walk you through every step of using your iPad for interpreting. It's a deep dive for those committed to the Apple platform. "The Tablet Interpreting Manual" is an inexpensive guide that covers all three big platforms, with specific chapters on iPad, Android and Windows. It also includes brand-new chapters on our favorite accessories and using a tablet to teach interpreting. You can use the manual to get started and then come back to it whenever you're ready to tackle another skill. This handy digital guide will become a reliable reference for you over time.
Do you offer discounts or refunds?
As we do for all of our material, we offer a 50% student discount. In case you are not satisfied, contact us in the first 30 days after purchase and we will give you a full refund - no questions asked.